Location:
Xuzhou is the geographic and economic center of over 20 cities covering Jiangsu Province, Shandong Province, Henan Province and Anhui Province. In China's regional economic layout, it is the juncture of east coastal opening-up area and middle west developing area, bridging the Yangtze River Delta and the Bohai Rim Economic Circle. It is an important water and land transportation hub and an important intersection for all directions.
Transportation:
Xuzhou is an important comprehensive national transportation hub, including railways, highways, waterways, airlines, and pipelines.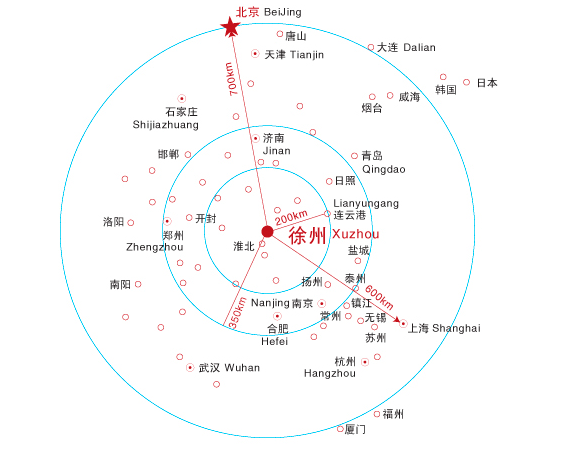 Railways from Beijing to Shanghai, from Lianyungang Port to Xinjiang and from Harbin to Sanya all meet in Xuzhou. The Beijing-Shanghai express train leaves Xuzhou every 6 minutes, and it takes only 2.5 hours from Xuzhou to Beijing and Shanghai.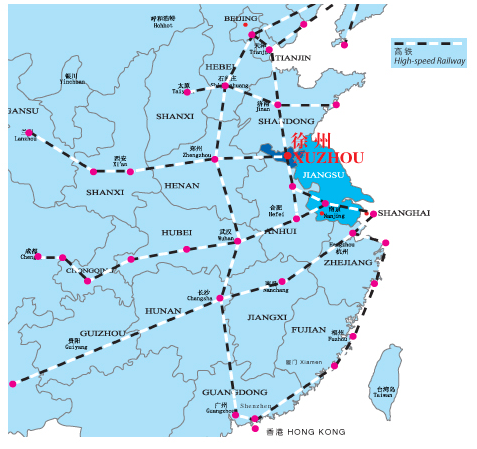 Xuzhou Guanyin Airport has become an important window opening to the outside world for Xuzhou and its surrounding cities. At present, it operate flights to Seoul, Bangkok, Teipei, Hong Kong, Beijing, Shanghai, Shenzhen, Changsha, Guangzhou, Dalian, Xiamen, Fuzhou, Sanya, Kunming, and other cities.