Dear International Applicants,
亲爱的留学生申请者:
Welcome to apply for the 2020 international student degree programs of XZMU.
欢迎大家报名我校2020年留学生学历生招生项目。
It is our hope that in the tough period you and your family are safe. Our prayers are with you and we believe that the world would overcome this pandemic with joint efforts soon.
在全球疫情蔓延的时刻,希望您和您的家人平安。我们将携手共同克服难关。
In China, we have a saying, jade need to be polished, one needs to go through trials and tribulations to be strong. On this note we are motivating you not to give up your medical dreams, just like how our current international students, in an inspirational video, took the opportunity to thank the Chinese government for its swiftness and effectiveness in combating the virus, and care and support they received from our university and school during the past months, which inspires them to work harder in being a medical personnel in future. (http://xcb.xzhmu.edu.cn/xiangxi1.jsp?urltype=news.NewsContentUrl&wbtreeid=14684&wbnewsid=252679 )
中国有句古话叫:艰难困苦,玉汝于成。希望大家不要轻易放弃自己的医学梦。正如在过去的几个月中,中国在抗击疫情中的迅速反应和有效措施,以及学校和学院给予我校留学生的支持与帮助更加坚定了同学们日后成为医务工作者的信念。
We are hereby informing all our international students that application for 2020 year degree programs start from Jan. to Jul. 2020. We offer English taught courses in undergraduate and postgraduate programs. You can use our online application system to choose your favourite program and contact us via the system message. Besides, in order to help you during your application process, an FAQ group in QQ comprising teachers, volunteers and international students to respond to your queries during your application. And admission webinars and other online application promotion events are organized to well introduce our programs and application procedures to each applicant.
我校2020年留学生学历生招生项目报名时间为2020年1月至7月。学校提供全英文授课的本科生与研究生学习专业。同学们可以通过在线报名系统进行申请并联系我们。同时,为了更好地帮助同学们完成报名手续和解答疑惑,我们建立了由老师和留学生志愿者宣讲团组成的招生咨询QQ群,通过网络直播和录播宣讲会以及日常提问答疑等方式让大家了解专业报名信息和报名流程。
A seed sown in spring, autumn will gain a lot. We are looking forward to have you as a new member of our university students!
在春花烂漫时播种希望,待到秋风果香时,我们期盼与各位新同学相遇在美丽的徐州医科大学!
To apply follow this link: https://xzhmu.17gz.org/
To download QQ international version: https://apkpure.com/qq-international-chat-call/com.tencent.mobileqqi
QQ Group ID: 857555510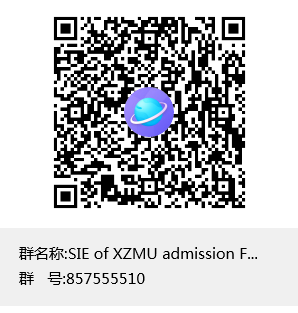 招生咨询QQ群
For more information, please visit our school website: http://gjjyen.xzhmu.edu.cn/
更多信息请访问学院网站:http://gjjy.xzhmu.edu.cn/
徐州医科大学国际教育学院
2020年4月27日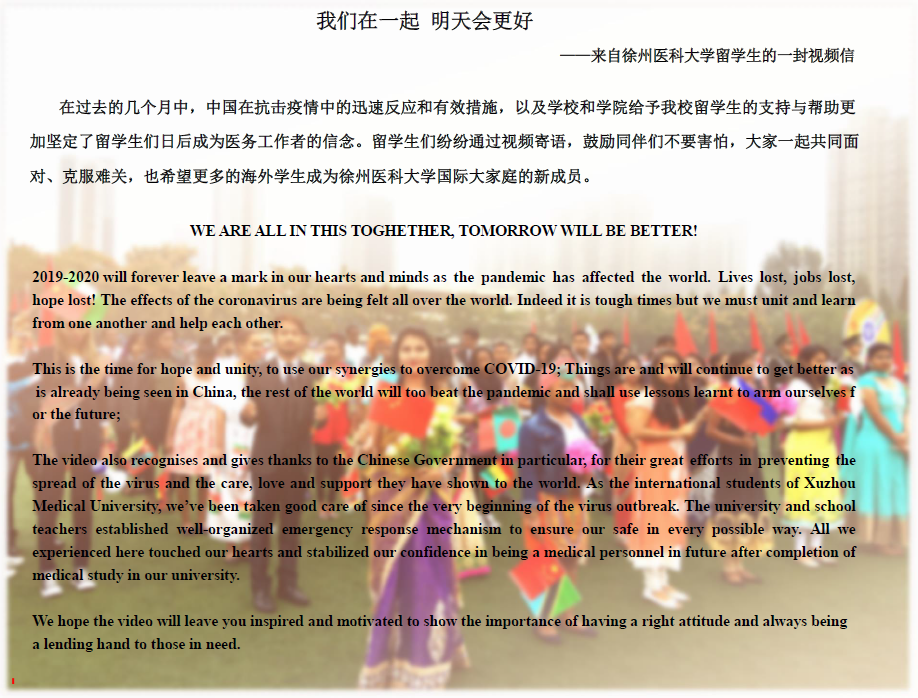 图文:Musonda,Susan Xu
http://xcb.xzhmu.edu.cn/xiangxi1.jsp?urltype=news.NewsContentUrl&wbtreeid=14684&wbnewsid=252679